The 2020 Gearsmas Holiday Gift Guide has arrived!
Shop for Gears This Holiday!
Check out the latest Gears of War merchandise for all your Gearsmas shopping! From t-shirts to hoodies, action figures to artbooks, represent Gears fandom this holiday season!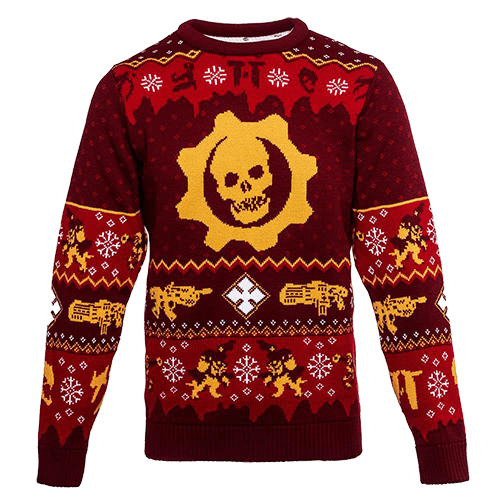 Perfect for getting cozy at home for the holidays, impress friends and family alike with the Gears of War holiday sweater. From the knitted Wretches and Brumaks to the weapons like the Boomshot and Hammerburst, this sweater has classic Locust elements woven through the entire design.
We know life can be pretty rough on Sera. But we have it on good authority that the Allfathers themselves took time out to celebrate the winter holiday season and it would be rude not to follow in their footsteps. So grab Fenix, Diaz, Cole Train, and co and gather round! Although, we highly doubt that there will be a Silent Night this holiday season.
As a special present from the COG, this sweater comes with a special code for the in-game Gears 5 'Fruitcake Weapon Set' DLC!
Fruitcake DLC codes will be sent via email on November 23, 2020 and can be activated from this date.
Red design helps to cover up the fact that you've been slaying the Locust Horde all day long
Whilst we're pretty sure you can carve a turkey with a Lancer, probably best not to make mashed potatoes with a Breaker Mace
Pop one of these on over your COG armor and you'll be ready for your office Christmas party in a snap!
Available now!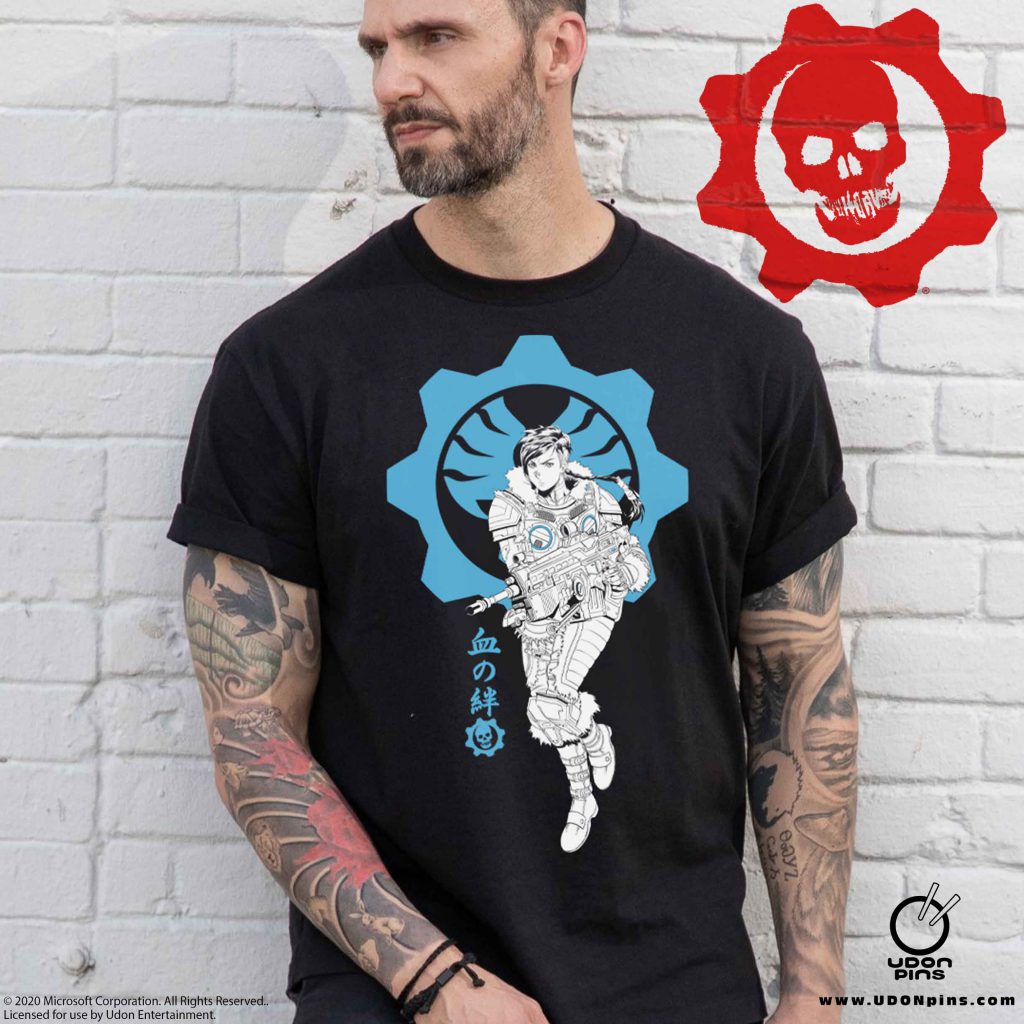 Gears of War x Udon presents a re-imagined Kait Diaz in this manga-inspired t-shirt by artist Panzer. This limited t-shirt features Gears 5 Kait Diaz, a COG soldier in search of the truth behind her family's connection with the Locust Horde and the incoming Swarm onslaught.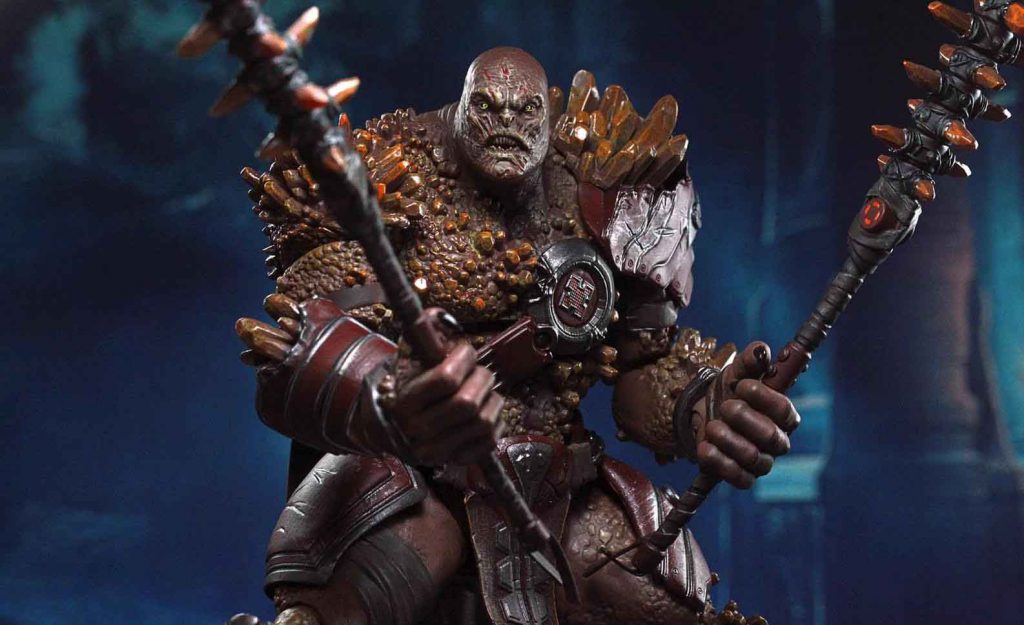 The largest action figure in the Gears of War lineup yet, the WARDEN is a fearsome enemy first introduced in Gears 5. This 12" figure is extremely movable and posable, and features two huge Breaker Maces, one for each hand.
The Warden's sole purpose is to enforce order among the Swarm's Hives through overwhelming strength. They prefer to take the fight up close, devastating enemies with each swing of their dual Breaker maces.
 Wardens are an elite form of Scion – Locust that have evolved after exposure to the Imulsion Countermeasure Weapon. As a result, the Imulsion that once contaminated their cells has erupted from their flesh in near-indestructible crystal. This natural armor gives the Warden a fearsome advantage in combat.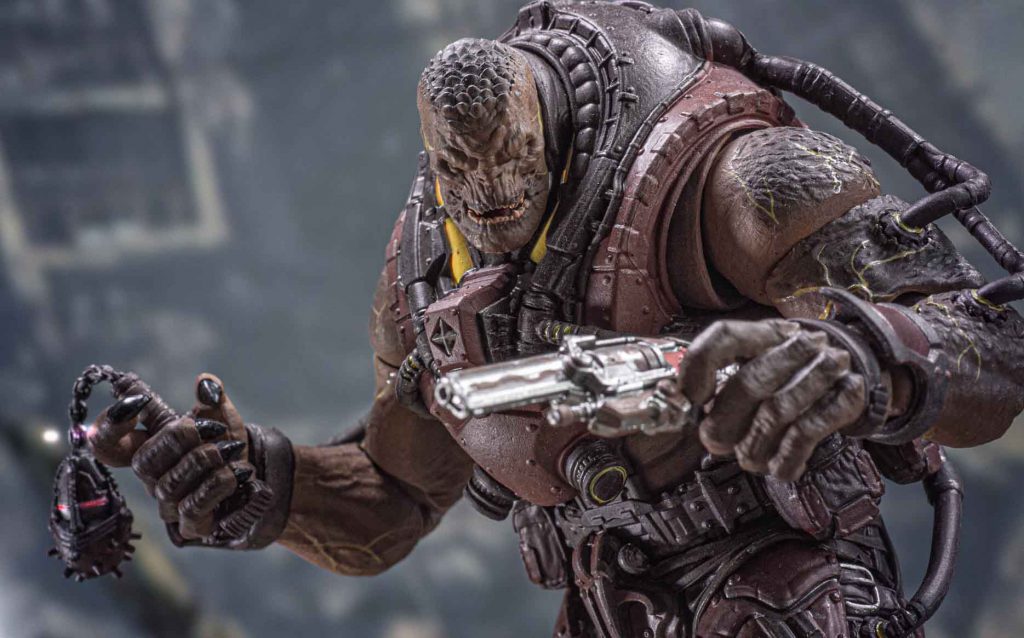 First introduced as part of Ukkon's Imulsion-charged army in Gears Tactics, the Locust Disciple is now available to add to your Gears collection! Pose this figure to your heart's content with plenty of accessories including multiple hands, Cyclops helmet, Sniper goggles, Sniper rifle, Boomshot, and more!
Featured in Gears Tactics – The Disciple is a ferocious Locust Drone unleashed upon the Coalition of Ordered Governments…
During the early days of the Locust War, the lead scientist of the Locust Horde, Ukkon, harnessed the power of Imulsion to build his army.
He experimented with the Locust Drones to create the Imulsion-infused Disciple.
Each Disciple wears an injection harness that delivers a continual flow of Imulsion into their bodies, amplifying the power of their attacks and granting them increased resilience and strength. These enhanced Drones form the fierce and unrelenting front-line of Ukkon's army.
Available Now!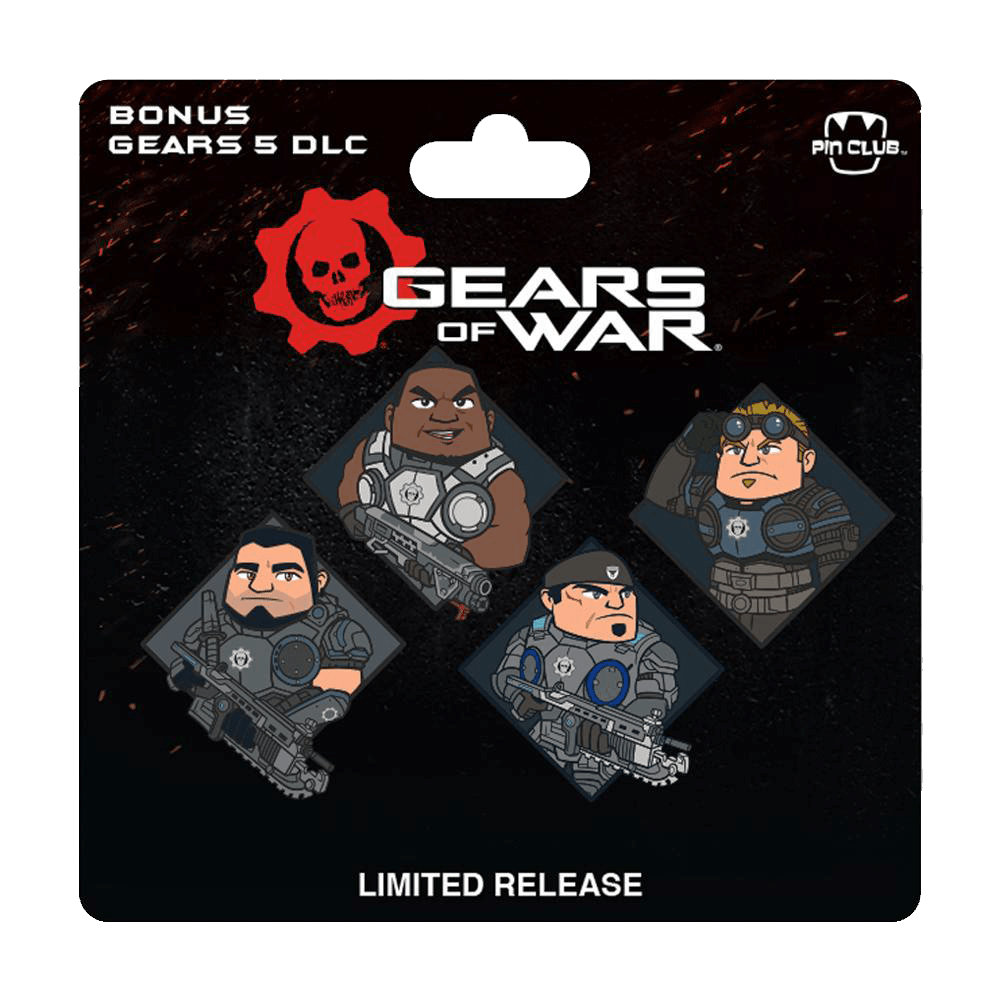 A perfect stocking stuffer, the Delta Squad pin set includes four pins featuring the fan-favorite original Gears team. Marcus, Dom, Cole, and Baird have been reimagined in a whole new 'chibi' inspired look, and look great on a bag, jacket, or as an addition to your Gears of War collection.This high-quality pin set includes a special code for an in-game Gears 5 'Delta Squad Pin Pack' DLC. 
Zinc Alloy
Gun Metal finish
Hard Enamel with printing
Pin size:
Gears Legacy Dom: 1.625"h x 1.5"w
Gears Legacy Marcus: 1.49"h x 1.5"w
Gears Legacy Baird: 1.49"h x 1.5"w
Gears Legacy Cole: 1.55"h x 1.5"w
Available Now!
Limited Edition Gears of War character pins featuring Marcus Fenix, Dominic Santiago, and Kait Diaz. These hard enamel 3-inch FigPin is amazingly detailed and is able to stand up with the signature FigPin rubber backer stand. Each pin comes displayed in a fully encapsulated premium jewel case collector packaging and include a laser engraved, alphanumeric serial number on the back, making every single one uniquely yours.
Sized approximately 3″ tall (76.2mm) 3/32″ thick (2.0mm)
Available now!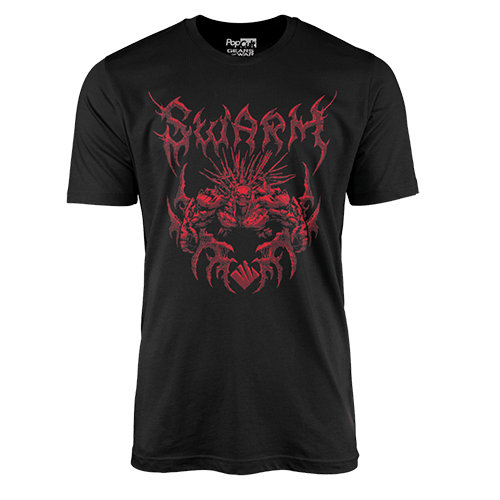 Fear the Swarm! An exclusive t-shirt featuring the dreaded Matriarch from Gears 5's acclaimed campaign. No need to brave Kadar for this sweet tee design.
Available now only at Pop Cult US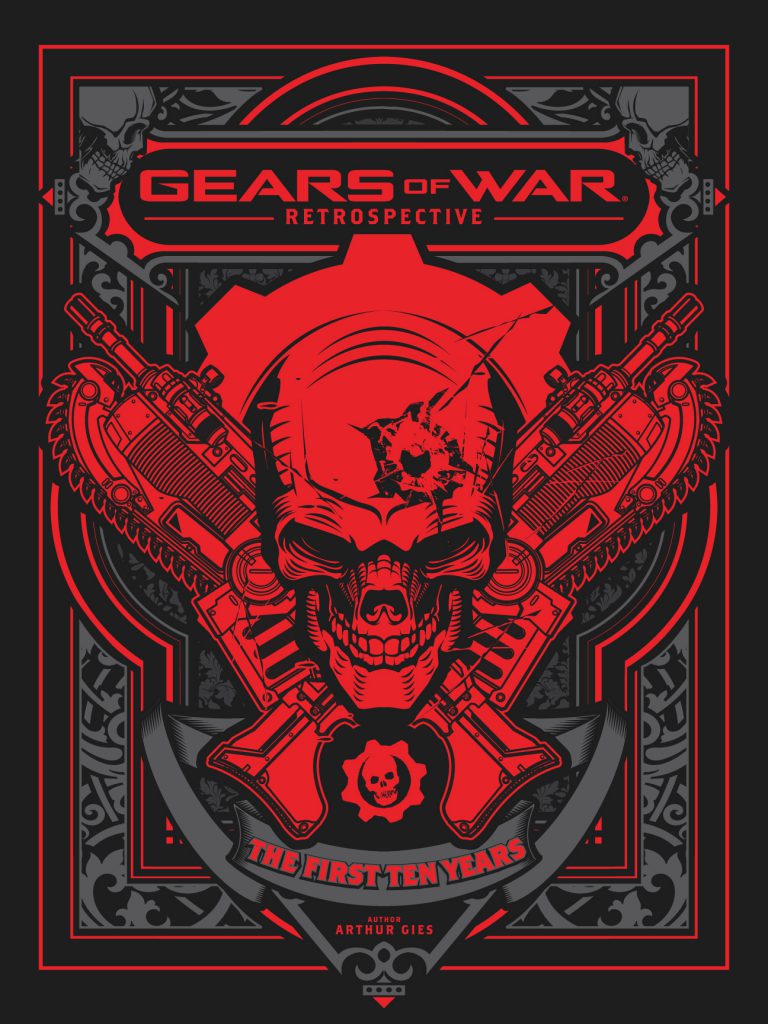 Having trouble finding that perfect gift for the Gear in your life? Look no further! Gears of War: Retrospective details the making of both the original trilogy of games and newer titles, with never-before-seen concept art and all the details a fan would want to know. You can't get further insight into the history of the Gears franchise than this!
With its acclaimed gameplay, intense characters, and visceral action, the GEARS OF WAR franchise has helped define the modern shooter genre. Written by Arthur Gies, GEARS OF WAR: RETROSPECTIVE is a detailed look back the entire GEARS franchise, from the first game's initial development as an Xbox 360 title, all the way up to the series' upcoming entry – GEARS 5. Learn the history of GEARS through the words of its developers, designers, and artists, accompanied by key visuals, concept art, and more.
Available Now!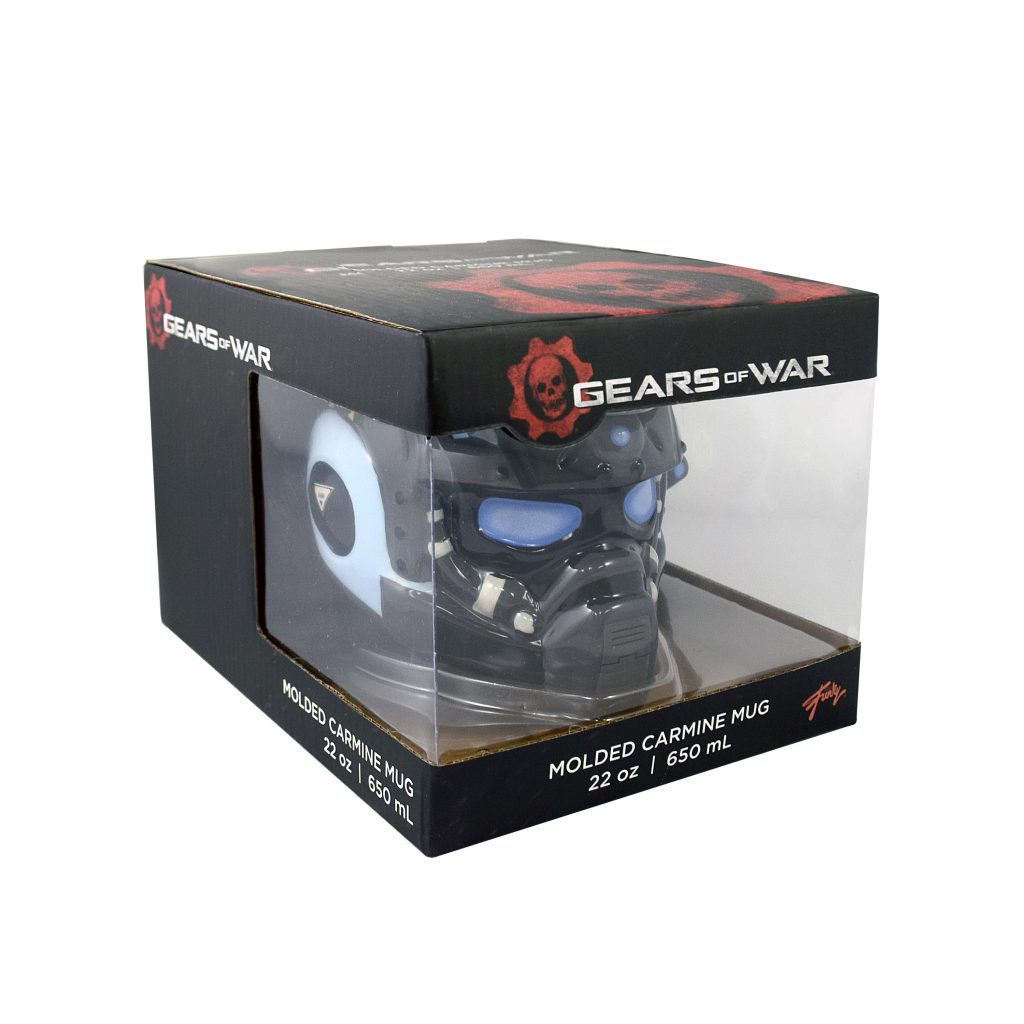 WAKE UP READY FOR BATTLE: This 22 oz. molded ceramic Gears of War coffee cup will get you ready for COG duty, in the battle against the Locust Horde! Perfect for holding your favorite morning brew, giving you that extra jolt of energy you'll need to save mankind.