Developer Blog: Tuning Your PC For Tactics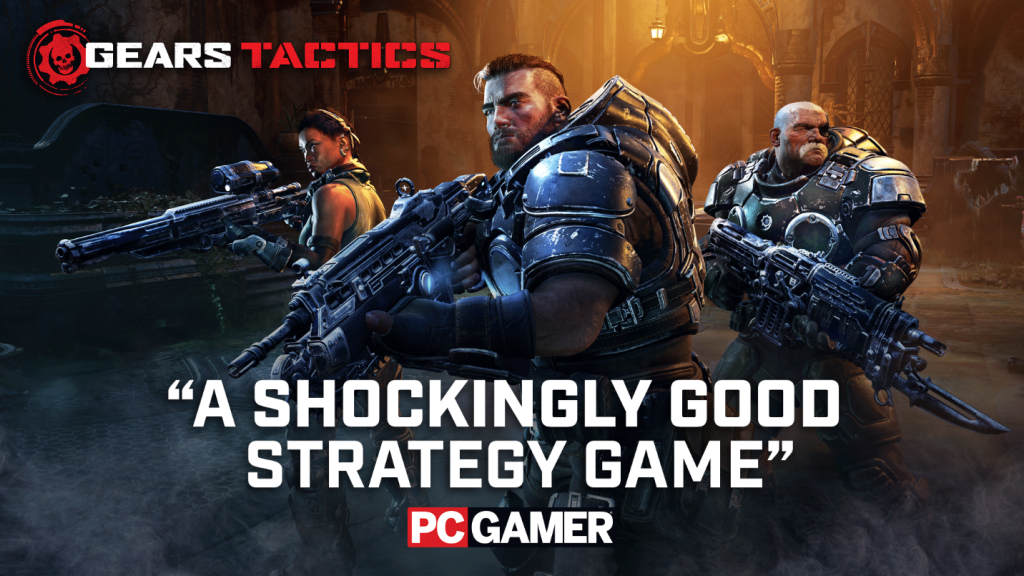 With Gears Tactics, we set out to create a "a strategy game worthy of the PC." This meant more than just gameplay, but a game that performed well in a wide range of PC specifications, all while upholding the high visual standards that players expect from a Gears game.
In this article, you'll find the recommended system requirements for Gears Tactics, how to get the most from adjustable settings, Intel Xe compatibility, and a list of accessibility and other features (Color Blind mode, Razer Chroma support) so that you can dial in your rig to perfection, with a little help from the game's benchmark mode.
The Coalition and Splash Damage developed Gears Tactics from the ground up for PC, making sure that Gears Tactics expanded the franchise to new audiences and performed well in a wide range of PC specifications. Here are the minimum, recommended and ideal specifications for playing Gears Tactics.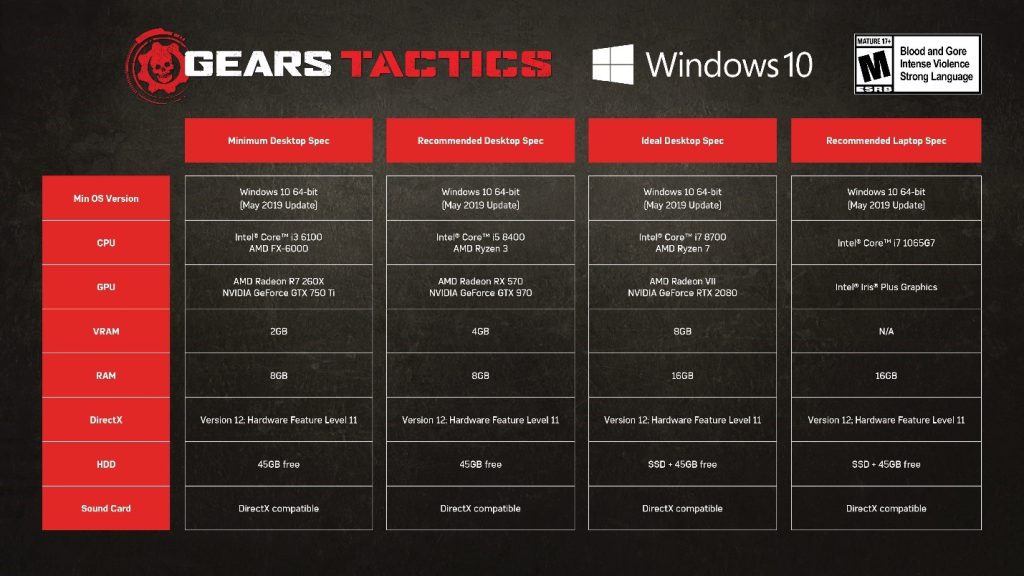 To make sure players have everything ready to jump into the battlefield and start their journey to hunt down Ukkon, Gears Tactics will choose recommended settings that match your hardware capabilities.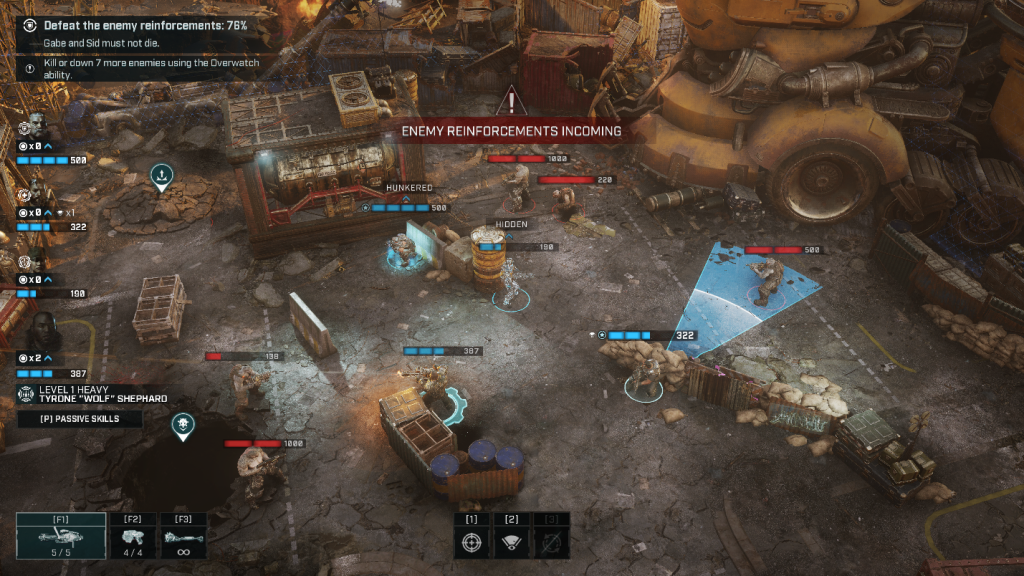 For players who want to fine tune their settings and get the most out of the game's visuals, there are a variety of graphics settings available. Most settings come with a preview that will show the precise results of changing the setting. Tune the graphics settings and then run the built-in benchmark to see how the game will perform in real gameplay.
Let's have a look at some of the settings you'll be able to explore in Gears Tactics.
Gears Tactics has all the standard controls you expect. In addition, you can look forward to control over the following features.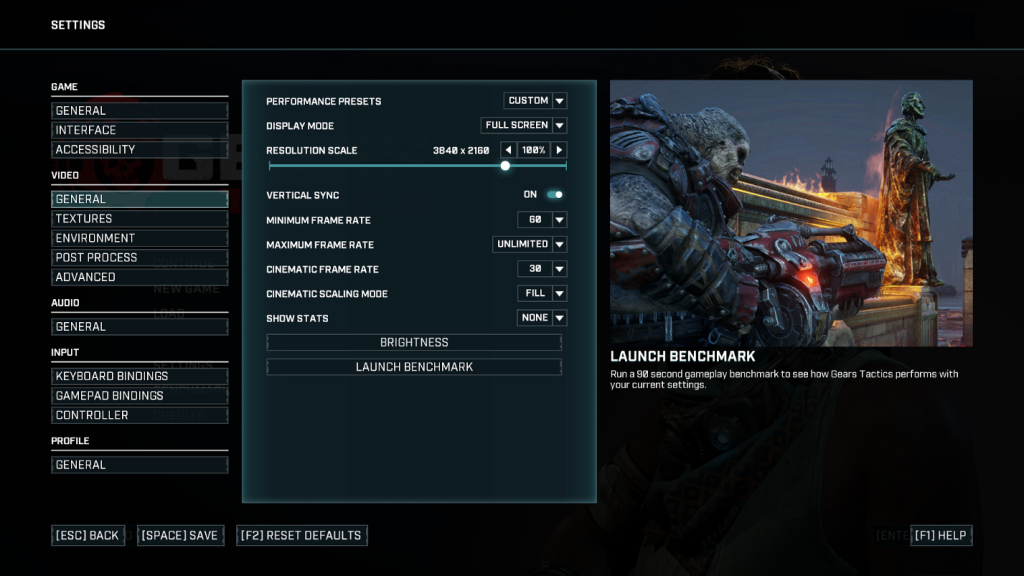 Minimum Frame Rate
This setting will allow the game to dynamically manage the resolution of a section of the rendering pipeline in order to keep the game at or above the selected frame rate. Choose the frame rate you don't want to drop below and let the game do the rest!
Cinematic Frame Rate
Cinematics in Gears Tactics are a step up in quality. The game displays cinematics at 30 FPS to keep the frame rate smooth while increasing the visual quality. You can switch this to unlimited frame rate.
Cinematic Scaling Mode
Gears Tactics will, by default, fill the screen up to 21:9 aspect ratio in cinematics. In some cases, the cinematic may be cropped on the top and bottom to fill the screen. You can choose "Fit" to fit the cinematic into the screen and enjoy them as authored in all cases.
HDR
For players with an HDR monitor, Gears Tactics supports Wide Color Gamut and HDR10.
Gears Tactics comes with Ultra (up to 4K) textures up front, so there is no need to get an extra texture pack. There are standard settings for various types of texture quality as well as a few settings unique to Gears. Here's a sample of some of the texture settings.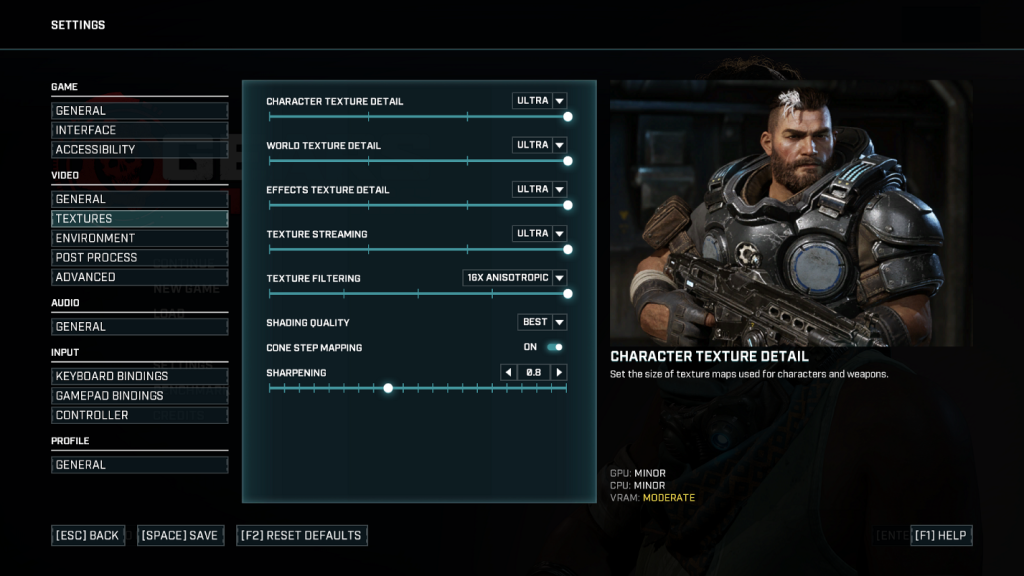 Texture Streaming
While you can adjust the quality of the Characters, Worlds and Effects, this setting will allow you to manage the speed that textures can stream in at the cost of some extra memory.
Shading Quality
The content pipeline in Gears Tactics was built to give artists extra control over the complexity and detail in materials (groups of textures). Using Shading Quality, you can adjust the amount of detail materials have, without needing to reduce the texture resolution.
The environment settings give you control over some of the most impactful visuals in the game. Here's a few new visual features you can look forward to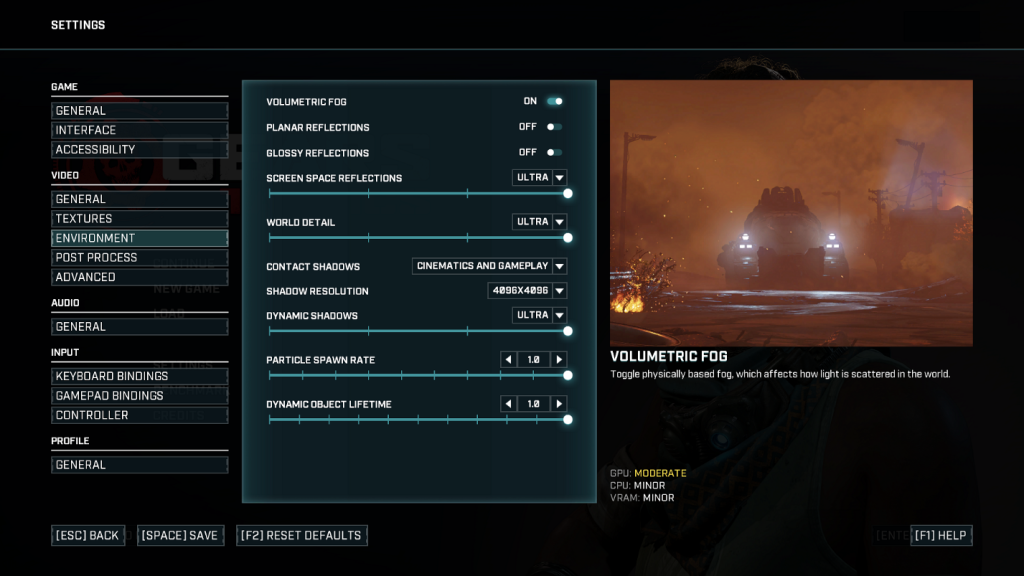 Planar Reflections
With a top-down camera, it's often the case that buildings or other objects will not always be in view, especially around the edges of the screen. This technique is used to display accurate reflections of objects that are off screen, instead of the reflection disappearing.
Glossy Reflections
This setting uses compute-based ray casting to scatter reflected light in more directions. This results in a more accurate reflection but can be expensive for the GPU.
World Detail
Similar to the way Shading Quality is used to adjust extra detail in materials, World Detail is used to adjust extra detail in world objects. At higher settings, more objects will be added to the world, including more lights. The additional objects don't have an impact on gameplay.
Contact Shadows
Contact Shadows use compute-based ray casting in screen space to determine shadows between a pixel and a light source. This extension of the Gears Tactics dynamic shadowing system will generate finely detailed shadows across the entire scene.
Post processing is used to add the final layer of detail to the scene. Here are some of the settings you'll be able to adjust: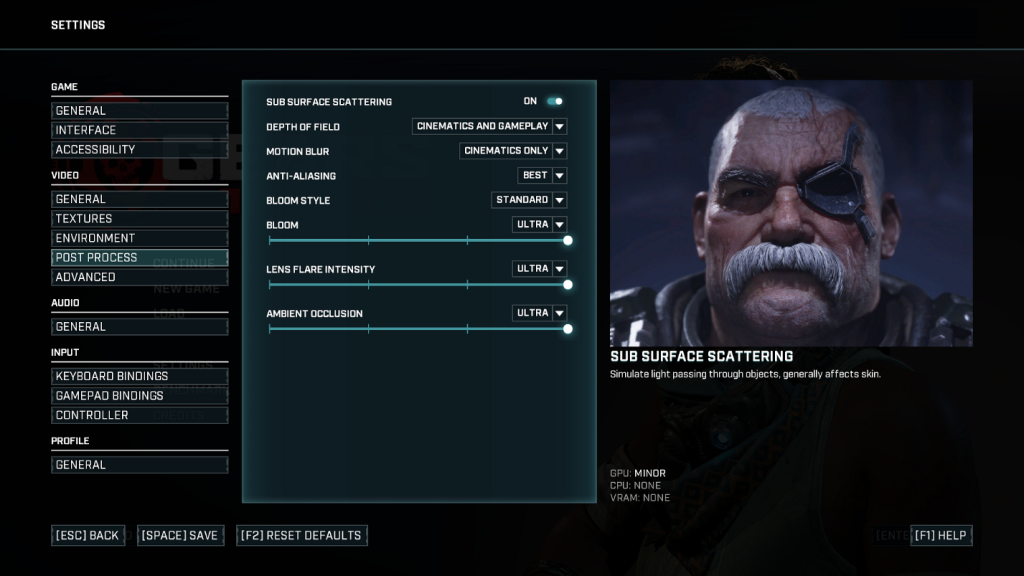 Depth of Field
Depth of Field is used to blur parts of the scene, generally to direct focus. Choose between Depth of Field turned off, turned on in cinematics only, or turned on in cinematics and in gameplay.
Bloom Style
Bloom is the glow effect seen from bright light sources. Standard bloom spreads equally in all directions. You can also choose anamorphic bloom, which spreads further on the sides.
Lens Flare Intensity
Lens flares are a result of bright light sources being viewed through a lens. Adjust the intensity of the lens flares with this setting, up to completely turning them off.
These settings affect how the game is run and can have a significant impact on performance. To make sure a wide range of PC specifications were supported, The Coalition worked with Intel on specific optimizations. Two areas that offer broad performance improvements are covered here.
Variable Rate Shading
Variable Rate Shading (or VRS), is a relatively new technique. It's used to adjust the number of pixels affected by a pixel shader, which is a fragment of code that runs on every pixel drawn to the screen.
With VRS, surrounding pixels can also be affected by a pixel shader, resulting in less overall work for the GPU. Working with Intel, this setting was built to improve performance without making a highly noticeable change to image quality.
Async Compute
Async Compute is a method of running graphics workloads in parallel. Working with Intel, this setting has been expanded from a similar implementation in Gears 5 to support more workloads in parallel across different types of hardware.
All these settings come together to make Gears Tactics a game that will run well across low power hardware and scale up for the highest end gaming rigs.
Use the built-in benchmark to preview the games visuals and performance with custom settings, or check how the game will perform at recommended settings for your hardware.
Here's a sample of the performance you'll be able to experience across a range of devices using the games recommended settings.
Intel® Gen 11 Laptop
This thin and light laptop uses Variable Rate Shading in order to achieve over 30 FPS at 900p.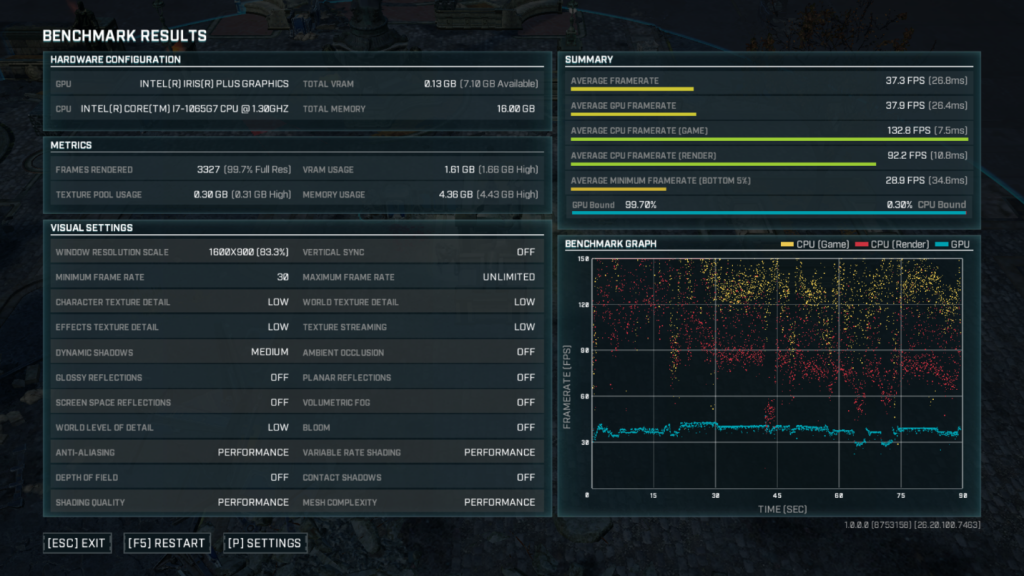 NVIDIA GeForce GTX 1060
The recommended settings for this mid-range GPU are a mix of medium to high in order to achieve over 60 FPS at 1440p.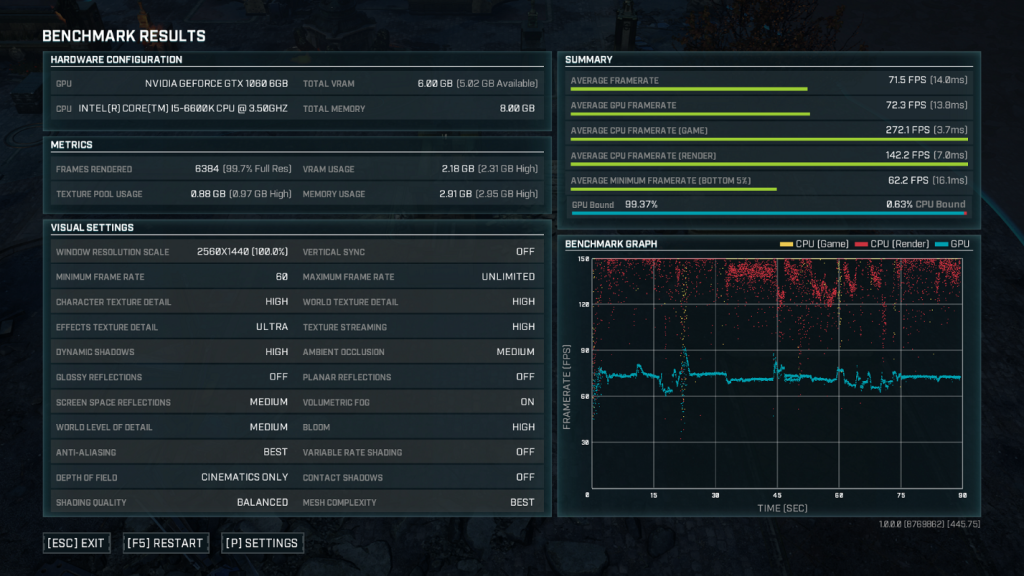 AMD Radeon RX 5700 XT
This high end GPU has most settings at ultra and uses the Minimum Frame Rate setting in order to maintain a steady 60 FPS at 4K.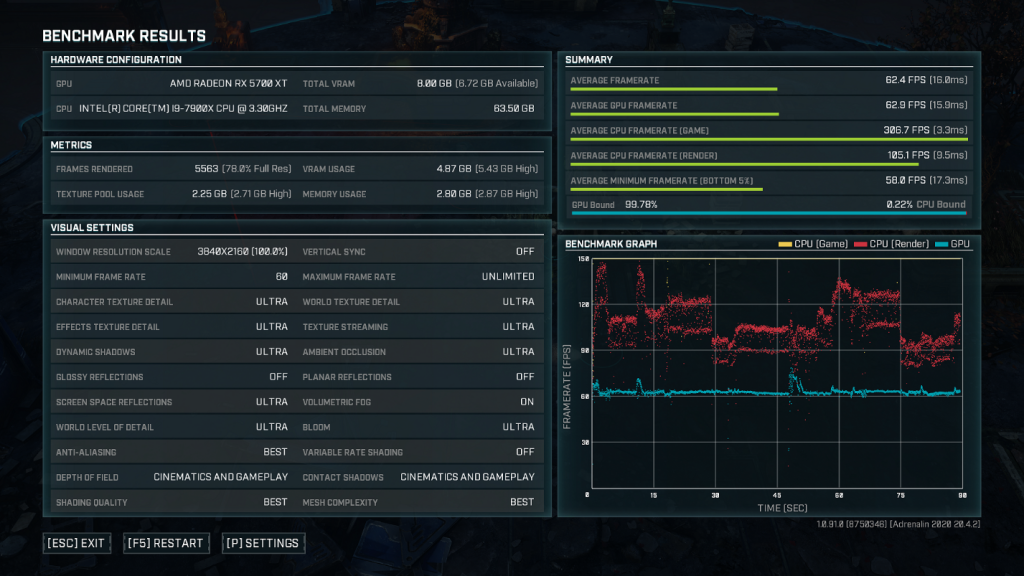 Gears Tactics was developed from the ground up to perform well on a wide range of devices. In partnership with Intel, we have optimized Gears Tactics to take advantage of the Intel® Xe Architecture. Now you can experience Gears Tactics on both desktops as well as on thin-and-light notebooks!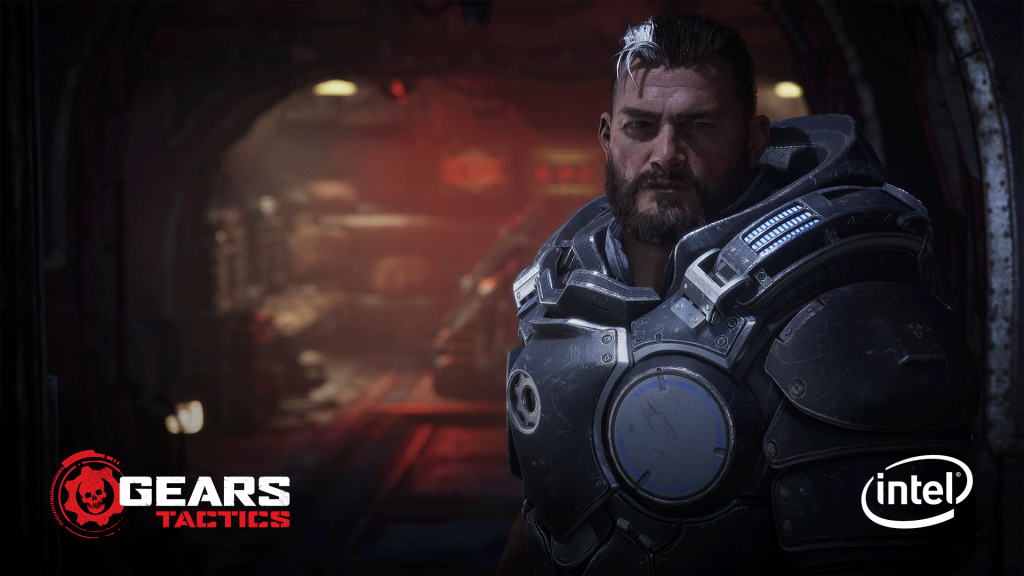 By working together with Intel, The Coalition strived to reach their primary benchmark, which was the ability to increase the screen resolution while maintaining a stable framerate. Solutions such as variable rate shading and asynchronous compute were implemented in the game to reduce the GPU's workload.
"We are thrilled to partner with Microsoft – The Coalition to deliver an optimized Gears Tactics experience to fans of this iconic franchise. With one of the industry's deepest developer relations programs, we worked with Microsoft to enable Gears Tactics to take full advantage of advanced graphics hardware capabilities such as variable rate shading and asynchronous compute to unlock fantastic gaming experiences for PC gamers worldwide," said Roger Chandler, Vice President, Visual Computing Software, Intel. "Platforms powered by Intel's all-new Xe architecture are crafted to deliver unprecedented gaming performance in thin-and-light notebooks and we can't wait for gamers to enjoy optimized titles such as Gears Tactics."
Gears Tactics is also available with select Intel hardware bundles. Learn more about participating retailers and qualifying devices.
It's not all about graphics settings. Gears Tactics offers great level of control over players' experience, including comprehensive accessibility settings, such as:
• Full screen color blind mode
• Subtitles and Closed Captioning
• Screen Reader
• Gore and Mature Content filters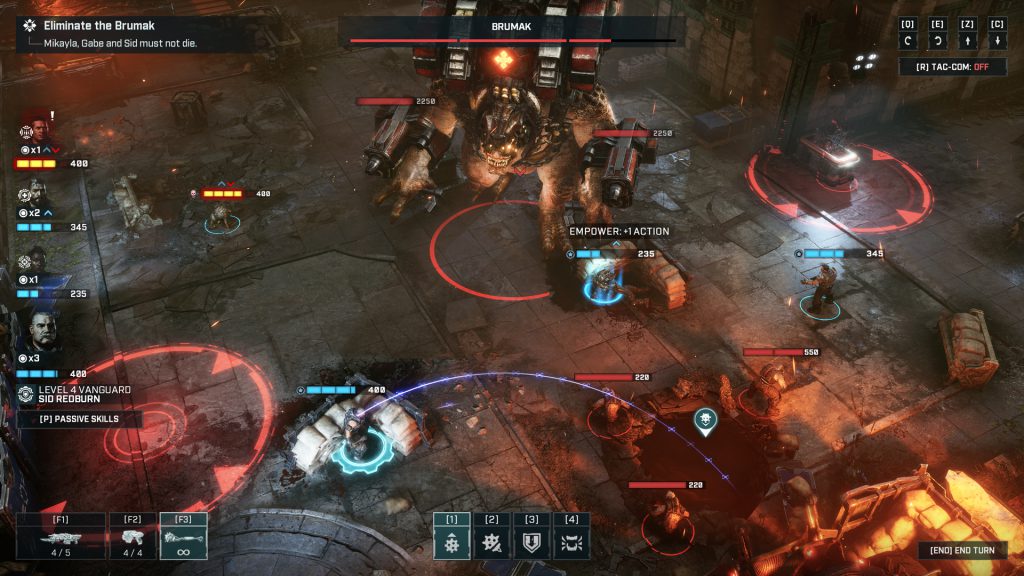 Players will also be able to fully remap their keyboard controls, adjust camera settings, resize safe zones and manage the amount of information on the UI.
Razer Chroma is supported in Gears Tactics, providing an interactive lighting experience through Razer Chroma supported peripherals to take your immersion to the next level.
Gears Tactics comes with a full set of Xbox Live achievements. If you are playing on Steam, then you will be able to earn achievements on Steam as well.
We couldn't be more excited to release Gears Tactics today! In order to play Gears Tactics, you will need an Xbox Live account (free) and if you play by May 4th, you will get the Thrashball Cole Character Pack!
Gears Tactics is available now on Steam, Xbox Game Pass for PC and Windows Store.
We're excited to expand Gears of War to a new genre and bring more fans to the Gears of War family. Our passionate team developed Gears Tactics to deliver a great strategy experience, and we hope you enjoy and have fun.
TC